If you've been coveting that bright celebrity or influencer smile, you're not alone. In the past 20 years, the demand for veneers has risen exponentially, and the dental veneer market is expected to grow from $1.5 billion in 2021 to $2.3 billion by 2028, at an annual rate of 5 percent. Currently, veneers make up about 26 percent of cosmetic procedures performed by dentists.
The quest for a perfect smile is in high demand, especially if your teeth are chipped, stained, fractured or undersized. That's where veneers come in — they're a custom-made shell meant to fit over your teeth to improve their appearance.
Unfortunately, veneers typically aren't covered by insurance because they're considered a cosmetic procedure and not medically necessary. This means the cost of veneers is handed down to the patient, and this could mean thousands of dollars per tooth.
At Hancock and Johnston Dentistry, we provide a variety of veneer options at different price points and alternatives. We further offer payment plans and financing options to allow patients to pay over time.
What Are My Veneer Options?
Dental veneers are porcelain shells that are the size and thickness of a fingernail.
Upper veneers are the most popular option for helping make over your smile. They can also be placed on as little as a single tooth, and we can even perform a full veneer crown.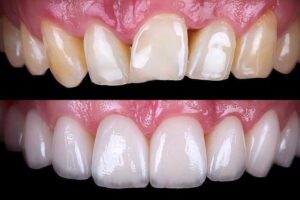 In a traditional veneers placement, we start with an examination so we can determine the correct shade, shape and number of veneers. We have our lab create a custom smile that fits your desires.
Next, we remove a very small amount of tooth enamel to provide room for the veneer. We take a digital or traditional impression of your teeth to make an exact replica. We place temporary veneers until your next appointment that are replicas of the desired size and shape for your smile.
The second visit is when we evaluate the veneers and then place them on you after verifying shape, color, fit and feel. Once you approve, we will clean your teeth and place a bonding adhesive to your tooth and veneer, then dry and cure it before finishing with a polish.
The type of veneers you choose could come down to the cost.
| | |
| --- | --- |
| Porcelain veneers | $500-$2,500 (per tooth) |
| Composite veneers | $250-$1,500 (per tooth) |
| No-prep veneers | $700-$2,000 (per tooth) |
| Removable veneers | $300 or more (per arch) |
PORCELAIN VENEERS
Porcelain is the most common material used for veneers. These veneers are tooth-colored, custom and last 10-15 years on average, and up to 20 years in some cases.
They are made of ceramic materials and resist stains better than composite veneers. They are also biocompatible with your gum tissue.
Porcelain Veneers: Pros and Cons
PROS
CONS

Custom made for you
Stain resistant
Strong/durable
Smooth
Natural appearance
Long-lasting (8-20 years)

Price (up to $2,500 per tooth)
Irreversible and invasive procedure
COMPOSITE VENEERS
Composite veneers are made out of composite resin.   These custom veneers are bonded with the same tooth color as dental fillings and last 3-7 years.
They do not resist stains as well as porcelain veneers. However, it's easier to spot repair chipping on composite veneers. Porcelain veneers must be completely replaced. This method requires a highly skilled dentist like our team in Lubbock, and it doesn't affect the gums in most cases.
Composite Veneers: Pros and Cons
PROS
CONS

Custom made for you
Less invasive procedure (less enamel removed)
Easily repaired if chipped or broken
Acceptable appearance
Usually completed in only one appointment
Less expensive than porcelain veneers ($250-$1,500 per tooth)

Do not last as long (3-7 years)
Less stain resistant
NO-PREP VENEERS
No-prep veneers are super thin and therefore require less intensive prep work on your teeth before they're installed. Save more of your tooth enamel, and save time as well. These veneers are still custom to your teeth.
Common brand names include Lumineers, Vivaneers, and DURAthin veneers. Longevity varies from 10-20 years. Best of all, they can be removed from the teeth without permanent damage.
No-Prep Veneers: Pros and Cons

PROS

CONS

Custom made for you

Less invasive procedure (less enamel removed)

Long-lasting (up to 20 years)

Natural appearance

Reversible

Less expensive than porcelain veneers (max $2,000 instead of $2,500 per tooth)

More likely to crack and chip

Expensive: $800-$2000 per tooth

May not be applicable for all patient's bite.

May feel thicker than natural teeth.
REMOVABLE VENEERS
Removable (or pop-on/snap-on) veneers aren't as invasive and cost less than traditional veneers. Because these veneers are removable, dentists also do not need to remove any enamel.
Although you can wear them whenever you want a smile transformation, they aren't meant to be worn all the time. Frequent wear can lead to plaque buildup and gum irritation. Removable veneers can also make it difficult to eat, and they could affect your speech.
Removable Veneers: Pros and Cons

PROS

CONS

Instant smile transformation

Inexpensive (Less than $55 per tooth)

You may or may not be able to eat with them on.

Temporary

Not for daily use

Can cause plaque buildup or irritate gums

Do not protect teeth like traditional veneers do
A Final Word
As always, our goal at Hancock and Johnston Dentistry is to create the best possible smile for our patients. We have been the leading restorative dentists in southwest Lubbock since 1975.
Before deciding which veneers would work best for your teeth, contact us for a consultation. We will assess your unique dental situation before deciding on a custom treatment plan. If veneers are right for you, you can look forward to a dramatically enhanced smile and lifelike results for years — maybe even decades — to come.